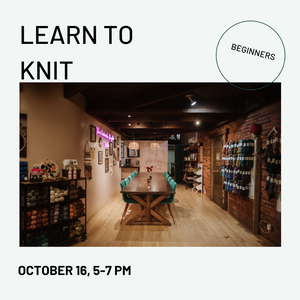 Learn to Knit with Candice and Sarah of Farmer's Daughter Fibers. 
You will learn to simply cast-on and KNIT! No stress, we are relaxed and patient teachers who make sure your experience is a positive one. Class Fee of $40 is for Needles and Yarn, we give you the best products to start and teach you for free!
You will be using Squish Bulky yarn for the class.  Please take a look at colors here and email sarah@thefarmersdaughterfibers.com with your color selection prior to class.  Lighter, solid colors are best for class.  
Date and Time: 
October 16th 5 to 7pm
Teacher: Candice English and Sarah Harris
Price: $40
CLASS POLICY

Payment must be paid in full to reserve your place. 

In the event that you need to cancel, you must provide us with notice 48 hours in advance to receive a refund or store credit.

No shows will forfeit the class fee, without a refund or credit.

Please arrive to class on time. Supplies, including book or pattern, must be purchased prior to class date. Especially if you need to have your yarn wound.

Come prepared! We want to make the most of our classroom time. 

Email sarah@thefarmersdaughterfibers.com with any questions.