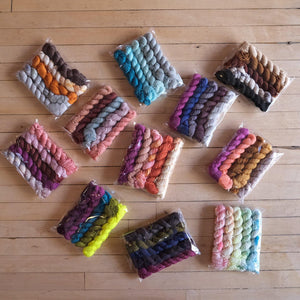 Here at FDF we dye A LOT of mini skeins. Trials for Sock Squad or new colorways and when we just want to play. Most of the time you can only get minis at our Brick and Mortar shop. But now our mini skein buckets are pouring over and the minis need homes! Each pack is a MYSTERY and we will be sending out packs randomly, you choose the weight. Colors range from bright & exuberant to earthy & rich! 
Bundles come with 5 mystery minis and are perfect for colorwork. If you order more than one mini kit, you may get duplicate colors. No returns on mystery minis.
Pintler Sock: 75% Superwash Merino, 25% Nylon, 92 yards/20g
Squish Fingering: 100% SW Merino, 87 yards/20g
Highwood Sock: 80% SW Merino, 20% Nylon, 80 yards/20g
Pintler DK: 75% SW Merino, 25% Nylon, 49 yards/20g
Juicy DK: 100% SW Merino, 54 yards/20g
Mystery DK Weight and Mystery Fingering Weight bundles will be a mix of the bases listed above.