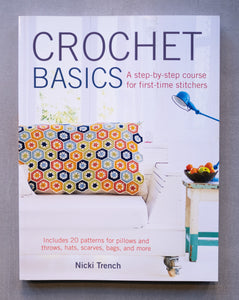 Crochet Basics is the perfect starting point for anyone wishing to learn how to crochet. It is a structured course of 20 workshops and projects, which starts by showing you how to hold your crochet hook and leads you through all the techniques and stitches you will ever need to know.
The Getting Started section provides advice on which yarns and equipment to buy, step-by-step illustrations show how to work all the stitches and there is essential information on how to understand crochet patterns. This is followed by the workshops, each of which introduces new techniques and reinforces skills already learned. Each workshop finishes with a project which consolidates these skills. The projects range from items for the home, such as pillows, throws and blankets, through to clothes and accessories, including a striped sweater and a cute camisole, a beanie hat and a bobble bag.
Crochet Basics takes you by the hand and shows you the easy way to learn. And with plenty of projects to spur you on, you'll soon work your way up from crocheting the simplest of squares to creating your own garments.